Budgeting with an Equity Lens
September 14, 2020
By: Chris Fabian, CEO, ResourceX
Local governments have the potential to make a substantial and lasting impact in creating equity for all the people in their communities. One of the most powerful levers for change is the budget.
Both Tacoma Washington and Denver are aligning policy goals associated with equity with program and service level changes.  The foundation of both cities' success is their clarity of purpose, as it comes to defining what they mean by equity.
Denver's Office of Social Equity and Innovation, led by Director Kim Desmond, has defined equity for the City as: "a systemic endeavor, resulting in equitable opportunities and outcomes where race/ethnicity can no longer be used to predict life outcomes, and outcomes for all groups are improved."
In Tacoma WA's Department of Equity and Human Rights, racial equity is defined clearly by three definitions
Engagement of communities of color rooted in anti-racist strategies and principles.
Anti-racist investment in creating and building economic opportunity and access for communities of color
Anti-racist strategies and investment in building and growing household stability, access, safety, and/or health of communities of color
The Government Alliance on Race and Equity (GARE), whose equity definition inspired Denver's, has focused its work at the "local and regional government" level, because cities like Denver and Tacoma have "the ability to implement policy change at multiple levels and across multiple sectors to drive larger systemic change."
While Denver and Tacoma's equity objectives are not exactly the same, they each set a vision for transformation, a policy direction that indeed beckons larger systemic change. And if local government is simply the collection of programs offered to achieve its stated policies, then programmatic change is the vehicle to drive systemic change.
With a clear objective, the (often overlooked) key to maximizing productive and actionable initiatives is to center the conversation on programmatic change. Applying an equity lens upon program and service delivery means to look at every service offered anew, with a fresh perspective considering what might be done differently to advance equity.
The City of Denver, CO launched a Program-based Business Intelligence initiative in 2020
that first translated their line-item budget to a program budget, which allows it to understand the services the city delivers and the true cost of service delivery. Denver then added additional data points to each program (population served, degree of mandate, equity impact, etc.) to achieve a dynamic, data-driven view of the outcome each program was designed to achieve and the impact each program has on the community.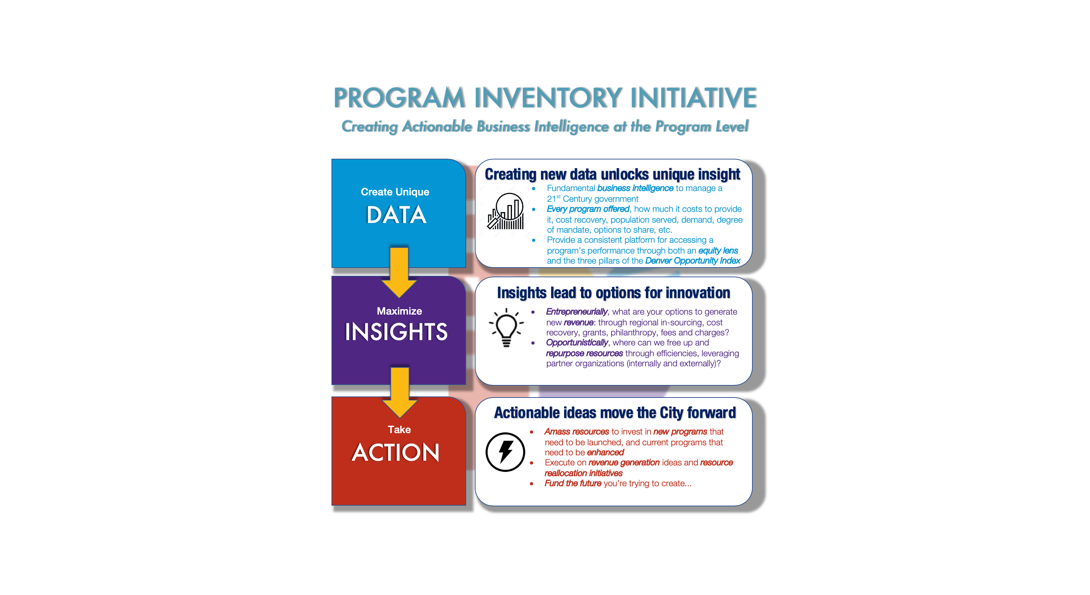 Applying an equity lens, one of the most surprising realizations is that each and every program offered has an opportunity to be transformed, reimagined, and evolved to increase equity. Consider the City's approach to providing Snow Removal (a program identified in the Program Inventory Initiative). For example, it enhanced the level of service provided in neighborhoods identified in the Denver Opportunity Index, prioritizing walkable pathways (sidewalks) to bus stops (to enhance economic access and mobility for those depending on public transportation), grocery stores and city services (libraries, parks, city hall).
In the City's Impound Lot program, where vehicle owners typically are required to pay for vehicle towing and storage fees to regain possession of the vehicle, an opportunity was created to reconsider (and forgive) vehicle towing and/or storage fees that stand in the way of economic opportunity.
There's been more: he city's Pre-Trial program typically assesses the  reason for arrest and establishes bail conditions; the equity opportunity identified to reduce overnight stays in detention center by rapidly assessing cases at in-take prior to trial not only had a positive impact on equity, but also reduced the need to monitor jail beds and saved money.
Policies can be big on vision, and programmatic change can hold the promise for action, but both can fall short without sufficient resources.
In an ASPA PA Times from December 2019 post entitled "Liberating Resources to Fund a Better Future" , Washington County, Wisconsin's story of repurposing over 13% of its budget provides insight about where resources can be found.
The challenge facing many local governments is that they have new programs and services that have the potential to buttress efforts at equity and create a brighter future for their communities. But they perceive that they don't have the resources to launch these new efforts. Compounding that challenge, the cost of providing current services continues to increase, while budget shortfalls brought on by the COVID-19 pandemic put immense pressures on already constrained resources.
Repurposing the resources a local government already collects and prioritizing them towards ends goals like equity is an approach championed by organizations from McKinsey & Company to What Works Cities. When a community's resources are limited, investments into every service and every project require persistent and thoughtful consideration and reprioritization.
To free up and prioritize resources to adequately fund equity transformation, resource reallocation fundamentally falls into one of two packages:
Finding the resources required to adequately staff and deliver services needed to provide for a prosperous community.
Uncovering these resources without asking community members (already set back by the economic impacts of COVID-19) for more, by divesting and repurposing what has already been given.
The true definition of local government success is the ability to deliver programs and services equitably and fairly to every citizen in the community. By establishing a clear equity mission and goals, adjusting existing programs and starting new programs to meet equity goals, and solidifying funding for these equity focused programs within the budget, local governments will enter a new era of citizen focused governance with an equity focus.