A Conversation With…
The Government Finance Research Center works with researchers from a variety of backgrounds to analyze the role that public finance plays in our lives. In the interviews below, we talk with experts to dig deeper into pertinent topics and get their perspective on the past, present, and future of government finance.
"..given the broad economic impact, we know that nearly all cities are feeling constrained, whether it's a pinch or a tight squeeze.." -Christiana McFarland, Research Director, National League of Cities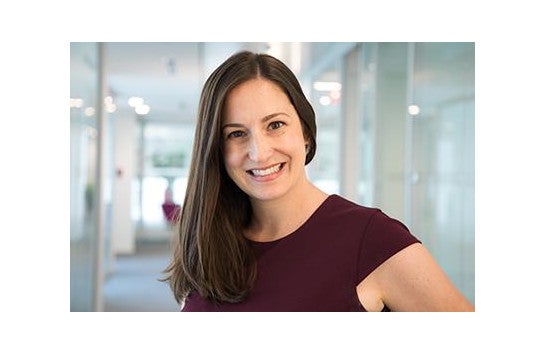 We're dealing with a sudden and deep economic impasse, largely as a result of the coronavirus outbreak. Do you have any general comments about this national experience?
The big question mark is whether everything freezes now and goes back to normal when the economy opens up again. Or whether there will be longer-lasting economic and fiscal implications. Are we just hitting a pause button? Likely not, there are jobs that are not coming back, state, and local revenues that won't be recovered and consumer behaviors that are changed for good.
The fast drop in economic activity, coupled with an enormous amount of uncertainty about the return of the virus make comparing this to other recessions very challenging. In this environment, projecting revenue shortfalls for cities is not easy, either from the national perspective or for those working in local government.
But we do have some indications about how specific city revenue structures respond to what's happening in the economy, and that, combined with projected unemployment, is what we use to project how city finances will fare over the next few years.
Any particularly specific findings?
First, the revenue structure is highly variable from city to city, with some relying more on sales or income taxes, some more heavily on property tax revenue. The health and economic impact of coronavirus was also very uneven across the country. Put them together, and you're looking at $100 to $150 billion in potentially lost revenues this year alone.  That's roughly 20 percent of cities own revenues and fees.
Also, there are likely going to be big cuts in state aid, as the states are filling their own budget gaps. But our projections don't include declines in state aid, meaning the fiscal problem may be even worse than we project.
Property tax is still a huge component, but it tends to lag the economy.  So, the vast majority of the shortfall is in sales taxes, income taxes, fees and services. 
That's right. We're finding that cities that rely most heavily on sources like sales, income and fees are feeling the brunt of loss of revenue right now. Cities that rely on property taxes are more likely to feel the brunt over the next year. But regardless of structure, given the broad economic impact, we know that nearly all cities are feeling constrained, whether it's a pinch or a tight squeeze.
Anything more?
Cities are suspending and deferring fees, charges and taxes as economic stimulus. In addition, even when not deferred or suspended a lot of people can't pay them.
Are raising taxes, to fill budgetary caps, a feasible solution?
From that perspective raising taxes may not be feasible. If, for example, you raise the sales taxes and everything is closed, it's not going to make a difference. Also, many cities don't have the authority to raise taxes on a whim, their ability is controlled by the state.
What about user fees?
Many of the activities for which those are used aren't there at this point. That includes things like library fees and, many parks and recreation activities, that have been closed. Then there are summer camps, which can be a huge revenue generator.  But many have closed.
Just think of all the services cities provide, particularly in the summer months. In addition to the services themselves simply not being offered, we're finding that cities are more in the mode of reducing financial burdens on residents and businesses, not adding to them with additional fees.
So, then is the only real alterative to be found in cutting services?
Personnel are being affected. Because that is the largest part if a city's budgetary expenses. And for cities, when personnel takes a hit with furloughs and layoffs like we're seeing, that equates to diminished services. Not just in parks and recreation, but also in less anticipated areas like public safety include fire, police and emergency medical technicians.
Is there any good data out there to give us a solid idea of the impact of cuts being made?
It's been an interesting time to collect data! Cities have been very willing to share their experiences with us, from the types of service cuts, impacts on expenditures and budget shortfalls that they are facing. It's also budget season, so they are trying to figure out a lot of this just as we are. We have a survey out now about local impacts of the coronavirus and will also release our City Fiscal Conditions survey this later summer, which will give us better look at how services and budgets are being affected.
What can cities anticipate from a third coronavirus package?
Federal support is certainly on the minds of state and local government leaders and advocates. We are hopeful that federal support will be available directly to cities of all sizes and be flexible enough to not only cover expenses directly related to corona virus mitigation, but also to help cover revenues lost as a result of swift economic decline. Providing this stability and certainty to cities as they prepare their own budgets will be crucial to a successful recovery.
Until the cash is in hand from the federal government are cities counting on it in forming their financial plans?
While we have good indications that cities will receive additional support, there are a number of questions out there. Most cities are not certain and are not forging ahead assuming they'll be getting more from the feds
Read More Conversations
"Data: The often-missing road to reducing the impact of Coronavirus"- David Merriman

With a well-known legacy of outstanding work in fiscal affairs, David Merriman has been concerned about understanding the interplay between good data and society's efforts to combat coronavirus. Merriman is Stukel Presidential Professor in the Department of Public Administration at the University of Illinois at Chicago and is leader of the Institute of Government & Public Affair's (IGPA) Working Group on the Fiscal Health of Illinois. He is a member of the GFRC faculty advisory board.

This interview was edited with the approval of both GFRC and Merriman for clarity and accuracy.

How much of a problem is it when cities, states and the federal government lack current, accurate data about coronavirus?

I'm trying to understand the economic effects of the pandemic and its fiscal implications—what will happen to state and local government revenue and spending. I've been working with Cook County about its revenue estimates. But it's incredibly difficult. Even though we've shut the state down for almost two months, we do not know the prevalence of coronavirus—how many cases there are in the general population. Since we do not know that, it is it hard to know when we can open the economy. Without knowing when the economy might open it is nearly impossible to predict the effect on government revenues and spending.

But the cost of figuring this out—getting good estimates of prevalence—is a pittance compared to the benefit. Anyone who has any idea of how to get this data should be funded. The money shouldn't be a difficult challenge, because it's so important.

You've said that it's "nearly impossible," to make smart economic policy if you don't know its fiscal effects. What kinds of knowledge about fiscal effects are most critical?

The first thing you have to get right is what the disease will let us do in terms of economic activity and how long it will go on. The current way we are trying to figure that out seems to be trial and error. The analogy I like is that we're putting our hands closer to the flame but if we get too close to the flame we get burnt.

And what happens then?

We head back a few steps in the adjustments we're making.

What's the one big question we should be able to answer?

Government hasn't done a good job of communicating why we don't have a better picture of the presence of the disease in the population. Without this kind of information, it is very difficult to do any other kind of policy analysis.

Aside from the obvious deficits of that kind of data for dealing with the pandemic, has the government failed in other data-related ways?

Government hasn't done a good job at communicating why we haven't gotten a better picture. The absence of certainty in the information the public receives endangers trust in the way people perceive government efforts. But if we made a better effort to explain why the numbers are often missing, that would help people understand what is really going on here; and could reduce the risk that some might believe the facts are being hidden.

Aren't there alternatives to testing the whole population, one person at a time?

People in my field, economics, none of us can understand why there is not more random sampling. Maybe it is just too difficult. But I think that someone with a background in statistics could create a methodology that would lead us to some answers that are far better than those with which we're working now.

Are there major obstacles to random sampling?

The barrier to doing random sampling is that when you do the sampling in one state or metro area, you'll get different answers than you will from another. And you have to know many of the various factors that differentiate one place from another.

Creating a random sample is likely to be difficult. But statisticians and epidemiologists can figure out how to do it.

Are there other routes, in addition to a statistical sample, that could get us the numbers we most need to make policies that would lead to fiscal betterment?

One thing I think government has failed on is getting better information from the private sector including credit card companies, utilities, banks and telephone companies. These companies have lots and lots of data.

Can you give us a simple example of a particular kind of data the government could get from private companies that might help?

Well, for example, banks have data about how people are spending their money. No one is going out to eat now but we might want to know to what extent people are ordering food for takeout, to what extent they are purchasing things like clothes on-line. Google or other search companies could even tell us the extent to which people are searching for cars, houses, furniture, and other big purchases even if they are not actually making the purchases at this time.  That data could provide an early indicator of the economic activity we might expect as the economy opens up again.  All of that could help governments figure out what to expect in terms of sales tax and other revenues.

So, why aren't we doing that? 

I'm not sure if industry has refused to provide it or if governments haven't gone out to ask for it; It's hard for me to see how there's any threat to the proprietary nature of this data. While, for example, credit card companies, have long been paid a great deal of money for sharing data—sharing the type of data governments need in aggregate form should not inhibit sales of the more disaggregated data that the companies generally sell and providing it to governments now would be an important public service.

Interview conducted by Katherine Barrett and Richard Greene, senior advisers, GFRC

"How does Chicago's industry structure impact its economy?" – Rick Mattoon

An interview with Rick Mattoon, a senior economist and economic advisor in the economic research department of the Federal Reserve Bank of Chicago. He is also an advisory board member for the Government Finance Research Center. He and his colleagues have long been concerned about understanding why Chicago's economy frequently performs differently than other large cities. Here he discusses the evolution of his thinking. This interview was edited with the approval of both GFRC and Mattoon for clarity and accuracy.

What is the classical thinking about cities with thriving economies?

In the traditional literature, density is an advantage. This is referred to as agglomeration. At an industry level agglomeration is found in so called "clusters," which supports productivity both within the cluster and across the city economy. That's because they have an abundance of specialized labor as well as the ability to share key inputs all in one place. So, though a city can be more costly to live in, it is also more productive.

Can you help us define clusters?

First, a cluster isn't an individual industry. It's a group of industries agglomerating to a single output. For example, glass manufacturers or tire manufacturers are part of the same cluster as Ford, GM or Chrysler.

So that sounds like a great thing. Why hasn't it seemed to apply in Chicago (and we presume elsewhere)? Has it applied in Chicago?

It's really not so much a matter of having clusters, but how the clusters relate to one another across the economy. Do the clusters actually complement each other, or do they compete with one another? For example, Chicago has large consulting sector, and a large financial services sector. They compete with one another for computer or advertising services, and that bids up the prices for those services. The cookbook approach has been that all you want is to have more clusters and bigger clusters are better, but that doesn't work for all cities.  The key question is do the clusters complement each other or compete with each other.

How should the city react to this notion as they plan for economic development?

You have to understand what resources the cluster is going to need. In Boston and San Francisco, they grew very large industries for which they didn't have the necessary human capital. But they were able to produce the human capital because, as we termed them, they were high amenity cities.  High skilled workers have choices in where they want to work so they tend to select cities with great amenities.

That's good news for Chicago, isn't it?

Chicago does have amenities, and we're cheap. But it's really the legacy industries in Chicago that can be problematic, like finance, insurance and real estate as well as mature food and package goods companies. Legacy industries can still be profitable but aren't fast growth.

So, how should Chicago take advantage of that?

The city must understand where demand comes for its economy. They have to advance train for growth in new fields.

Can all cities apply this approach?

It's an illusion that every city can compete. According to most of the literature, human capital is the most important thing for predicting the economic vitality of a city. A city must either produce and retain it for key industries or be able to attract it. One of the reasons Chicago has always had a particular strength in accounting is that University of Illinois has always had one of the best accounting schools in the country. Firms end up chasing workers, they have to go where human capital is.

Of course, human capital isn't the only factor, right?

Right. It's important to see where your assets are and seeing where you have an advantage. In Chicago, for example, you have O'Hare Airport, and that leads to strengths in knowledge-based service industries. These types of professional services are what Chicago can trade with the world, but these workers need to be able to get to these markets. O'Hare is city controlled and is a hub for both American and United, in addition to its international terminal. You can't say the same think of Akron, for example, because people and goods can't easily get there quickly.

 But you've indicated that Chicago has often underperformed other cities. Has it made appropriate use of O'Hare?

O'Hare has evolved to support Chicago industries that trade across the US and the world.  However, much of Chicago's historic trade is supported by truck and rail and focused on serving Midwest markets.  As the Midwest has shrunk in its relative economic position, you need to pivot to serving markets that are fast growing.

 Has Chicago's economy begun to change to a faster growth model?

Even 10 years ago Chicago had a negligible tech sector.  Today, the Fulton Market neighborhood has become a magnet for investment by technology companies and even older firms such as McDonalds who relocated their headquarters to this amenity rich neighborhood.  In almost every case, firms that chose this location suggested that the ability to attract high-skilled human capital was the number 1 factor in the selection.

Interview conducted by Katherine Barrett and Richard Greene, senior advisers, GFRC

"Whither Economic Development?"- Josh Drucker

An interview with Josh Drucker, Associate Professor of Urban Planning and Policy, University of Illinois at Chicago, faculty advisor to the Government Finance Research Center, and long-time researcher into and writer about economic development. This interview was edited with the approval of both parties for clarity and accuracy.

Why should we care about economic development?

One reasonable perspective is that everything comes down to economic development. For example, people may think of the environment as being in conflict with economic development, but well-thought out development can positively impact the environment. On the other hand, without taking the environment into account, development can be a negative factor.

The fundamental thing that places do for economic development is to get people jobs. That's a pretty broad area, jobs. But ultimately, politicians are judged by whether their communities have plans to create opportunities for people.

At what levels of government are there the most thought and control over economic development? For example, how about the federal government?

We should have more planning for our economy at the federal level. But there's a belief there that it's the private sector that should be directing the economy instead of the government. The last time the federal government was deeply involved in charting the course of the economy was during the Great Depression, when massive regional projects such as the Tennessee Valley Authority were integrated with creating jobs.

Almost every other developed country has an industrial policy. Though we have industrial policies that affect different industries, we have no intentional, coherent economic plan for the nation as a whole.

And the states?

The states are picking up much of the slack. They direct the activities of public universities, they award science and technology grants, and even the money that they invest from their pension plans – that forms de facto industrial policy. They are much more directed toward building their job base than is the federal government.

Cities and counties?

Very large cities like Chicago and New York can act like states. They have good universities, staff expertise, lots of resources and assets.

For many other cities and counties, I think there is a great deal of innovation in terms of developing their economies effectively. New ideas and approaches often bubble up from the local level, with policies from dedicated manufacturing zones to targeted venture capital funds to innovation districts. The politicians who run cities are often judged by whether they create quality job and career opportunities for residents.

In smaller localities, though, many of the economic development departments are stretched to do more than keep up a website, answer requests for information, and refer inquiries about state programs.

Is there a conflict between the ways in which economic development serves citizens versus companies?

Politically, we focus on satisfying the needs of employees and the needs of employers, and we need to do a better job matching the two. But we separate the two systems. I think we can do a better job of matching people's talents with the jobs that are available.

Too often, a city will say we want to develop a particular industry, say biotechnology, but the city is in a location that doesn't produce many biotech-qualified employees. Governments should be in the long-term business of training people for the jobs that are or will be available.

Workforce development most often focuses on individuals. Economic development tends to support corporations. We need both to work in concert.

Should we be putting more emphasis on specific skills learned at universities, rather than liberal arts degrees that may not prepare someone for particularly needed positions?

I don't think so. Liberal arts degrees can be effective for economic development. Employers want students to be skilled at reading and writing. They also want them to possess numeracy, computer skills, and so on. And then they can move on from there. In fact, lifelong learning is really crucial for improving the whole of the employee-employer matching process. We need to coordinate community colleges, workforce training programs, recertifications, and so on.

Government can subsidize and support these programs, perhaps by providing tax credits to train people. Or certification processes can assure that the programs people enter are genuinely high-quality.

As new needs develop in the economy, are there any particular obstacles to people changing their lives to fill them?

Yes. For one thing, we currently have a tight labor market, with fewer people looking to make changes to fill shortages. And tightened immigration lessens our opportunities to bring in well-skilled or well-trained employees from abroad.

How much of a problem is interjurisdictional competition, through incentives?

Incentives mean that governments forgo revenues that could fund important areas, like education. When neighboring communities are doing exactly the same thing as one another in order to attract jobs, neither secures an advantage, and it prevents the kind of cooperation among communities that can benefit all of them. It's inefficient. When nearby cities or counties compete, they can easily wind up in a worse spot than if they were able to work together.

For example, Amazon recently asked almost every state in the country to make some kind of incentive bid for its new headquarters. It wound up originally choosing northern Virginia and New York City (Queens), which didn't offer the largest incentives packages but did present attractive environments, including highly educated workforces, advanced infrastructure, and urban amenities. Yet Amazon was surely able to push the incentive packages they got upward, by creating competition from coast to coast.

Our legal system doesn't have a ready solution to this issue. In Europe some countries outlaw this kind of competition. But in the United States, state and local governments cannot achieve lasting détente, and our federal government doesn't have the aspiration to impose it from above.

Interview conducted by Katherine Barrett and Richard Greene, senior advisers, GFRC.