A Conversation With…
The Government Finance Research Center works with researchers from a variety of backgrounds to analyze the role that public finance plays in our lives. In the interviews below, we talk with experts to dig deeper into pertinent topics and get their perspective on the past, present, and future of government finance.
"Whither Economic Development?"- Josh Drucker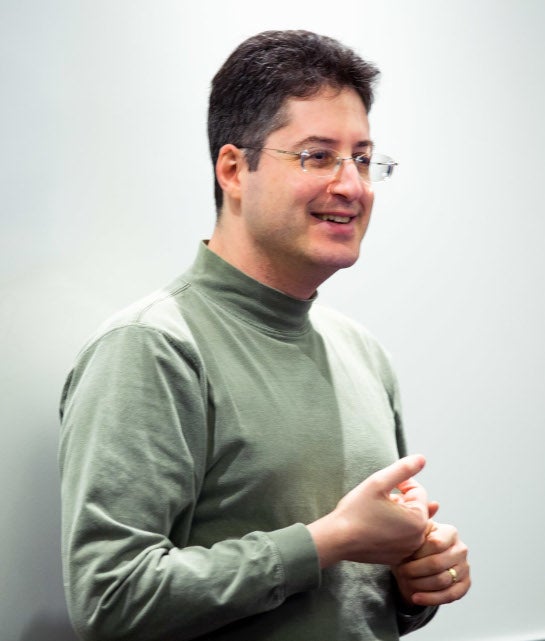 An interview with Josh Drucker, Associate Professor of Urban Planning and Policy, University of Illinois at Chicago, faculty advisor to the Government Finance Research Center, and long-time researcher into and writer about economic development. This interview was edited with the approval of both parties for clarity and accuracy.
Why should we care about economic development?
One reasonable perspective is that everything comes down to economic development. For example, people may think of the environment as being in conflict with economic development, but well-thought out development can positively impact the environment. On the other hand, without taking the environment into account, development can be a negative factor.
The fundamental thing that places do for economic development is to get people jobs. That's a pretty broad area, jobs. But ultimately, politicians are judged by whether their communities have plans to create opportunities for people.
At what levels of government are there the most thought and control over economic development? For example, how about the federal government?
We should have more planning for our economy at the federal level. But there's a belief there that it's the private sector that should be directing the economy instead of the government. The last time the federal government was deeply involved in charting the course of the economy was during the Great Depression, when massive regional projects such as the Tennessee Valley Authority were integrated with creating jobs.
Almost every other developed country has an industrial policy. Though we have industrial policies that affect different industries, we have no intentional, coherent economic plan for the nation as a whole.
And the states?
The states are picking up much of the slack. They direct the activities of public universities, they award science and technology grants, and even the money that they invest from their pension plans – that forms de facto industrial policy. They are much more directed toward building their job base than is the federal government.
Cities and counties?
Very large cities like Chicago and New York can act like states. They have good universities, staff expertise, lots of resources and assets.
For many other cities and counties, I think there is a great deal of innovation in terms of developing their economies effectively. New ideas and approaches often bubble up from the local level, with policies from dedicated manufacturing zones to targeted venture capital funds to innovation districts. The politicians who run cities are often judged by whether they create quality job and career opportunities for residents.
In smaller localities, though, many of the economic development departments are stretched to do more than keep up a website, answer requests for information, and refer inquiries about state programs.
Is there a conflict between the ways in which economic development serves citizens versus companies?
Politically, we focus on satisfying the needs of employees and the needs of employers, and we need to do a better job matching the two. But we separate the two systems. I think we can do a better job of matching people's talents with the jobs that are available.
Too often, a city will say we want to develop a particular industry, say biotechnology, but the city is in a location that doesn't produce many biotech-qualified employees. Governments should be in the long-term business of training people for the jobs that are or will be available.
Workforce development most often focuses on individuals. Economic development tends to support corporations. We need both to work in concert.
Should we be putting more emphasis on specific skills learned at universities, rather than liberal arts degrees that may not prepare someone for particularly needed positions?
I don't think so. Liberal arts degrees can be effective for economic development. Employers want students to be skilled at reading and writing. They also want them to possess numeracy, computer skills, and so on. And then they can move on from there. In fact, lifelong learning is really crucial for improving the whole of the employee-employer matching process. We need to coordinate community colleges, workforce training programs, recertifications, and so on.
Government can subsidize and support these programs, perhaps by providing tax credits to train people. Or certification processes can assure that the programs people enter are genuinely high-quality.
As new needs develop in the economy, are there any particular obstacles to people changing their lives to fill them?
Yes. For one thing, we currently have a tight labor market, with fewer people looking to make changes to fill shortages. And tightened immigration lessens our opportunities to bring in well-skilled or well-trained employees from abroad.
How much of a problem is interjurisdictional competition, through incentives?
Incentives mean that governments forgo revenues that could fund important areas, like education. When neighboring communities are doing exactly the same thing as one another in order to attract jobs, neither secures an advantage, and it prevents the kind of cooperation among communities that can benefit all of them. It's inefficient. When nearby cities or counties compete, they can easily wind up in a worse spot than if they were able to work together.
For example, Amazon recently asked almost every state in the country to make some kind of incentive bid for its new headquarters. It wound up originally choosing northern Virginia and New York City (Queens), which didn't offer the largest incentives packages but did present attractive environments, including highly educated workforces, advanced infrastructure, and urban amenities. Yet Amazon was surely able to push the incentive packages they got upward, by creating competition from coast to coast.
Our legal system doesn't have a ready solution to this issue. In Europe some countries outlaw this kind of competition. But in the United States, state and local governments cannot achieve lasting détente, and our federal government doesn't have the aspiration to impose it from above.
Interview conducted by Katherine Barrett and Richard Greene, senior advisers, GFRC.