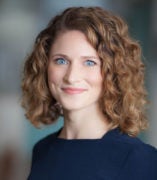 Amanda Kass
Associate Director, Government Finance Research Center
Pronouns: She/Her/Hers
Contact
Building & Room:
CUPPA Hall, Room 324
Address:
412 S. Peoria Street
Office Phone:
Email:
Related Sites:
About
Amanda Kass is the Associate Director of the Government Finance Research Center. As Associate Director she designs, conducts, and manages research in the GFRC's priority areas. Amanda also works with the faculty and external advisory panels to advance the GFRC's goals and disseminate its research. Amanda has previously worked at the Center for Tax and Budget Accountability and the University of Chicago's Center for Municipal Finance.
Amanda's research focuses on state and local finance, with sub-specialties in pensions, housing, and fiscal analysis. Her work has been published in Chicago Magazine and Urban Affairs Review. She has appeared in various media outlets, including Bloomberg, the Bond Buyer, Chicago Sun-Times, Chicago Tribune, Crain's Chicago Business, Reuters, Tax Analysts, and WTTW's Chicago Tonight.
Amanda holds a Ph.D. in Urban Planning and Policy from the University of Illinois at Chicago. She holds an M.A. in Geography from the University of Colorado at Boulder, and a B.A. in Geography and International Studies from the Ohio State University.
Selected Publications
Weber, Rachel, Amanda Kass and Sara Hinkley, "Devolution and Debt: Financing Public Facilities in an Age of Austerity" in Private Metropolis: The Eclipse of Local Democratic Governance. Edited by Dennis R. Judd, Evan McKenzie, and Alba Alexander. Minneapolis: University of Minnesota Press, 2021. Available to order here.
Kass, Amanda. 2020. "How Many Illinois Public Safety Pension Systems Risk Running Out of Assets?" Illinois Municipal Policy Journal 5(2): 131-140. Available here.
Rogers, D., Herbert, M., Whitzman, C., McCann, E., Maginn, P.J., Watts, B., Alam, A., Pill, M., Keil, R., Dreher, T., Novacevski, M., Byrne, J., Osborne, N., Büdenbender, M., Alizadeh, T., Murray, K., Dombroski, K., Prasad, D., Connolly, C., Kass, A., Dale, E., Murray, C. and Caldis, S. 2020. "The City Under COVID‐19: Podcasting As Digital Methodology" Tijds. voor econ. en Soc. Geog., 111: 434-450. doi:10.1111/tesg.12426
Kass, Amanda. 2020. "Working with Financial data as a Critical Geographer" Geographical Review, 110 (1-2) 104-116.
Kass, Amanda, Martin J. Luby, and Rachel Weber. 2019. "Taking a Risk: Explaining the Use of Complex Debt Finance by the Chicago Public Schools" Urban Affairs Review 55(4): 1035-1069. Accepted version available here.